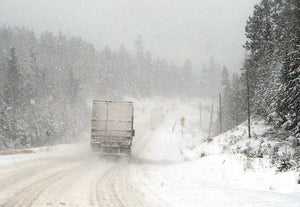 Winter Driving Survival Kit
This winter, many drivers will (or have already) encounter treacherous icy roads and blizzard conditions. Nobody should drive in dangerous conditions, but in case you find yourself in a bind, it's important to have a personal blizzard survival kit handy.
Here's a list of 5 must-have winter items that you should always keep in your car in case of an emergency. Don't forget to always have a first aid kit available as well.
1. Food and Water: Like in all emergency situations, you'll want to have extra food and water. If you know you'll be making a drive, prepare some non-perishables. You'll also probably want to bring fresh bottles of water instead of leaving bottles in your car all winter. With constant cold temperatures, your water may end up becoming a big block of ice.
2. Warm Clothes: Keep a change of warm clothes and extra blankets in your trunk. Just in case you end up snowed in on the road, you'll want to protect yourself from hypothermia and frost bite. It's also a good idea to have some extra hand and body warmers because waiting for rescue in a blizzard could take hours, and you'll want to remain as warm as possible.
3. Warning Devices: AAA recommends that all drivers have warning devices in the car, like a distress flag or flares. The Blizzard Survivial Kit comes equipped with a flag and a light stick, so you'll be seen by rescue workers and oncoming drivers won't end up plowing straight into you.  Along with warning devices, make sure you have a flashlight with extra batteries.
4. Salt: In many cases, drivers find themselves stuck in a pile of immovable snow or layers of solid ice. Keeping a bag of abrasive materials in your car, like salt, can be helpful when it comes to melting snow and ice. After you shovel around your car, put some salt near the tires to add some traction and hopefully help you safely drive away from the dangerous patch.
5. Snow Shovel/Ice Scraper: When the temperature drops below freezing, you'll have to deal with layers of ice on your windshield. Before driving, clear your car of snow and ice completely. Try using an effective ice scraper, like the IceDozer Plus 2.0 or the compact IceDozer Mini. If you live in an area that frequently sees heavy snow, invest in a portable shovel, like the SnowMover 2.0. You'll be able to clear your car and the surrounding area of snow. Plus, if you get stuck during a drive, you'll be able to dig your car out.
If you have a long drive ahead, make sure your cell phone is charged and programmed with emergency phone numbers. It also helps to have a car charger in case you need to make a phone call.
Drive safely this winter, and stock your car up with Innovation Factory quality-guaranteed products.
---