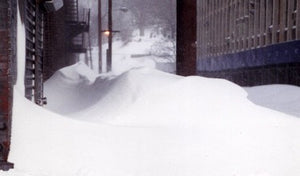 Prepping for Climate Change
The East Coast recently took quite a beating from the Nor'easter, better known as "Nemo." The storm that is reportedly blamed for at least 18 deaths left over 2 feet of snow in Boston, making it the 5th largest snow storm recorded in the city.
According to a recent Huffington Post article, the perfect recipe for snow is a just-below-zero temperature and lots of moisture. The EPA has reported that since 1970 the average winter temperature in the Northeast has risen by 4°F. As temperatures drop lower below zero, the atmosphere loses its ability to maintain high amounts of moisture. Thus, in previous years the temperature probably would have been colder at this time of year, and the storm may not have dropped such heavy snow. Who would have thought global warming would mean more snow storm?
Even without the thought of climate change, Nor'easters are bound to happen. Storms like Sandy and Nemo are a reminder that in the future people need to be prepared for any disaster that can strike.
If you want to be prepared for any natural disaster, visit our products page.
---