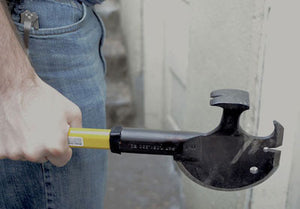 Our Best Seller is Certified 100% Made in the USA
The
Trucker's Friend™
is an all-purpose tool, built tough and specifically designed to meet the needs of professional truck drivers, but it does so much more than that. The Trucker's Friend™ has attracted a broad (and vocal) following among fire and rescue workers, outdoor enthusiasts, survivalists and preppers, as well as truck drivers and other motorists. The serious tool has even been adopted by the community of zombie hunters. In any situation that requires hacking, prying, pulling or pounding you will feel real peace of mind with this serious tool on board. The patented all-purpose tool includes the following features:
Curved Axe (fully resharpenable)
Hammer and Nail Puller
Spanner (for hose couplings)
Tire Chain Hook
Pry Bar and Lever
Wire Twist
Ice and Debris Remover
Cast Alloy Tool-Steel Blade and Shank (heat treated for extra strength)
Rust Resistant Matte Finish
Fiberglass Handle (non-conducting)
Shock Absorbing PowerGrip™
Wide Array of Uses
Truckers
This professional-grade tool is truly the trucker's best friend. Whether removing objects embedded in tires, repairing (or dismantling) pallets or chopping away ice and debris, you'll feel real peace of mind with this serious tool in the cab beside you.
Emergency Whether breaking your way out of a burning vehicle, prying up debris to free a trapped victim, or for aggressive self-defense; in any situation that requires hacking, prying, pulling or pounding the Trucker's Friend can be a true lifesaver. Used by Search-and-Rescue professionals.
Outdoors The Trucker's Friend replaces many tools to make your hiking, hunting, camping or other off-road experience safe and enjoyable. Whether chopping kindling, pounding tent stakes or even for protection from wild animals, you'll be glad for this strong companion on your next trip 'out there'.
Job Site The Trucker's Friend is an indispensable addition to every tool kit – both for professionals as well as DIYers. Whether on the job site, in your home workshop, around the farm or in the trunk of your vehicle, you'll be glad for the company of this unique and versatile multi-tool.
Zombies The Trucker Friend, aka the Zombinator, is a must-have should be a Zombie Apocalypse. You can hack, pound, pull or pry just about anything into submission. Definitely won't fly at an airport security checkpoint.
Made in the USA: And now, the Trucker's Friend has been officially certified as 100% Made in the USA by American Certified™. The full seal is below. The tool is also a featured product in the American Certified store – the largest collection of USA made products on the planet. 
About the Inventor: The Trucker's Friend is the invention of Gys van Beek, at 94 years of age perhaps the nation's oldest active inventor. A native of Holland, as a member of the Dutch Resistance in World War II, van Beek was instrumental in aiding refugees and enemies of the Nazi regime. He was decorated for his heroism by Supreme Allied Commander, General Dwight Eisenhower for helping to rescue numerous British, Canadian and American downed fighter pilots. In 1999, the Shoah Foundation, founded by Stephen Spielberg, recognized van Beek as an Aid Giver for helping to save Jewish lives and demonstrating fearlessness and courage during the Holocaust. For more information about Gys Van Beek and to learn about his war efforts, read our blog post.
About Innovation Factory Innovation Factory creates leading edge products designed from first principles. All of our products are Made in the USA and are backed by a no-hassle Lifetime Replacement Guarantee.
---