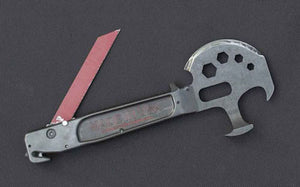 The Lil Trucker Kickstarter has been launched
We've been making kickass tools for years, extolling the virtues of American-made goods and high quality gear for serious jobs, but our newest project is our most exciting yet.
After the success of the Trucker's Friend, we figured we had to step it up. Design a tool that could do all the Friend could do and more – decrease the size, but increase the versatility, accessibility, and shear badass firepower. And we think we did just that.
The Lil Trucker™ launched on Kickstarter this past Wednesday, and we've raised nearly $24,000 in just 2 days. Half the size of the Trucker's Friend with twice the tools, the Lil Trucker™ has a fold-out saw, axe, hammer, strap cutter, window breaker, and a hell of a lot more. Lovers of Innovation Factory and heavy-duty tools alike have come together and shown their support for the Lil Trucker™, and we're thrilled at the response we've gotten.
To make the Kickstarter even more of an event, we made a short zombie film with the Lil Trucker™ in the starring role. It cuts, kills, chops, and saws its way through an undead horde and all the obstacles in its path with style and ease, and it made one amazing movie.
We're excited to reach and exceed our goal, and to get the Lil Trucker™ out into glove compartments and garages everywhere.
---