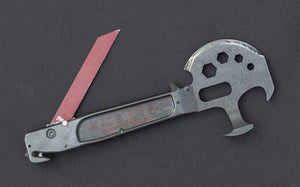 Lil Trucker™ Update: Progress, But Also a Delay
Dear Lil Trucker Supporters:
The prototypes of the Lil Trucker arrived all shiny and bright - and we were hoping for a quick review, then on to cutting metal for the production molds.
Unfortunately, these very expensive models (one of which cracked outright due to excessive heat-treating) revealed some issues that have to be resolved (and are still being worked on). These issues primarily relate to manufacturability of the Lil Trucker. We have to further tweak the design both to facilitate the actual metal casting as well as the precision machining of the resulting parts.
Meanwhile, our partners at Texmo Precision Castings have been very generous in offering to fund an expedited turnaround once we begin work on the production molds.
So here's where we are. I have three Mechanical Engineers pouring over the Lil Trucker design - each bringing their own special insights to bear. Assuming they concur on final changes by next week, we can expect finished products to begin shipping sometime in late February.
I couldn't be more frustrated by the additional delay - for not only do I continue to disappoint you, my supporters, but, of course, I can't sell to anyone else until the products are on hand. So there will be more months with no revenue from a tool I first started developing (and investing in) almost three years ago.
But I promise that we'll get there, and we'll do it in America!
Meanwhile, for those who've been keeping track, we've been out of stock of our best-selling product - the Trucker's Friend - for most of the last 6 months.
Long story sorta short, the owner of the small USA casting company that makes this tool became ill more than a year ago. He turned the business over to his son who, a few months later, decided he didn't want the family business. Before leaving, the son hired a general manager - who was then fired when the founder/CEO reluctantly returned to the helm a few weeks ago, And one final twist, in restarting the production, the owner announced that the Truckers Friend would no longer be sharpened at the factory. Nor would they be glued/assembled (as they had been for the last four years). So now we're scrambling to setup a workshop (which we're doing with the help of our fulfillment partner) to get the tools sharpened and assembled.
Here's the bottom line to this tale of woe. Working with American suppliers can be very painful. This is a big reason why many of my fellow tool makers opt for making their products in China (where the suppliers are eager and accommodating and - at least initially - provide quality work at an affordable price).
Nonetheless, we're almost back in stock with the Trucker's Friend (we have an even thousand waiting now to be sharpened and carefully epoxied). As soon as we have completed products in the fulfillment center, I hope to offer all of my backers the opportunity to buy this product at a significant discount. The incoming supplies won't last very long - we have more than 30 resellers waiting for their orders to be filled - but you'll all get first dibs!
BTW, among its many other claims to fame, The Trucker's Friend was selected by Rusty Nail as his signature weapon in the nationally released horror movie, Joy Ride 3.
Thanks everyone for your continuing support.
Marvin Weinberger
---