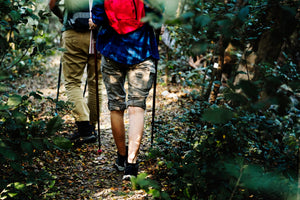 Survival Axe - The Only Tool You'll Need to Survive!
The Off Grid Survival Axe combines a lot of features into one light, compact tool. After pounding, hacking, and sawing with one, I've come up with a comprehensive review of this multi-tool and its features. I'll go through each aspect of the tool, its design, and its durability. If you're looking for a decent all-in-one tool for your home emergency kit, seeking a good survival tool for your bug out bag, or wondering about a multipurpose item for your next camping trip, I'll let you know if the Survival Axe is right for you.
First Impressions
Right out of the package, the Off Grid Survival Axe feels solid, like a tool that might really chop and pound efficiently. Solid, but not too heavy. It feels like the type of tool you could stick in a backpack or carry bag and not worry about the weight. A quick look confirms that this axe is a full tang tool, meaning that it's one piece of steel from the head all the way down through the handle. I was glad to see that, as any serious tool should be full tang. The handle, sandwiched on either side of the steel, is reinforced nylon. It's not too hard or too soft and provides a pretty good gripping surface. The black oxidized coating makes it look sleak and mean. Holding this tool with its oddly-shaped axe/hammer head and variety of holes and teeth, I started thinking think, "this might be fun."
Axe. Hammer. Saw
The axe head came just a bit on the dull side. I'm sure it would have cut just fine, but I sharpened it a little bit anyway. I like blades on the sharper side, but for most people it would be fine right out of the package. Also, it was really easy to sharpen, about five minutes with a sharpening rod. I gathered up some large branches and a few chunks of wood and set out to test the beast. I wasn't disappointed. It chopped 3-4" branches easily and went right through smaller branches. Afterwards, the blade showed no signs of damage; no nicks or rolling of the edge, just a tiny bit of wear on the black coating. If you need to chop up some kindling, cut down a small tree, or de-limb a branch, this axe is more than adequate for the task. 
The hammer was just as tough. I pounded nails, pulled nails, and pried with the claw. The hammer took it all in stride. This is a solid, well-made tool. 
The saw cut very well on a variety of wood types from wooden boards to branches. You may see old reviews of this tool where users complain about the saw not locking while in use. This is apparently a situation that Off Grid has fixed because the current saw locks open and is very stable and easy to use. And, yeah, it cuts metal, too.
The Survival Axe's versatility continues with three hex sockets, a spanner wrench for hose couplings and a gas valve shut off wrench. All seemed to work as designed, in my tests. There is one drawback to the hex sockets. Because of where they are mounted, any hex head in a tight spot or one that's countersunk is going to be impossible to reach. On a tool like this I don't think there's any way around that.
The recessed nail puller, wire twister, and bottle opener also worked as expected. I didn't test the demolition grip teeth. Above them there is a sharp edge and the packaging refers to it as the box cutter and can opener. While it was easy to shred a box with that sharp tip, I could not figure out how to open a can with it, and I did try. In a survival situation I probably could get the can open, but it might entail a bloody finger, a tiny hole, and a shredded, mangled can. Let's just say there are lots of better ways of opening a can.
I'll admit now that I didn't go out to my car and try to cut the seatbelts with the belt cutter. I did cut cord, twine, and paracord with it. the little blade is super sharp and cut everything easily. I also didn't test the glass breaker, but just looking at how hard and sharp it is makes one think it will work.
Uses
The Survival Axe combines a lot of features into one compact, relatively light tool that is solid and durable. With a very few exceptions, all the features work pretty well. It isn't, as the packaging says, "The Only Tool You'll Need to Survive", but it is a good way to carry a workable version of several necessary tools. It's not so heavy that you would hesitate to carry it or so big that it is unwieldy. It's also not too light or flimsy to get the job done. For people who enjoy the outdoors, this would be a great tool for making kindling, sawing branches, cutting paracord, and pounding in tent stakes. For rescue personnel, the belt cutter and glass breaker are essential, and the many other features are nice bonuses. For preppers and survivalists, every item carried should have more than one use. This one has a few dozen. If you don't fall into the category of outdoorsman, prepper, or rescue personnel, you still might need one (or two) of these Off Grid Survival Axes. Leave one in the car for breakdowns and emergency situations, and put another in your home emergency kit for any type of natural disaster.
To read more about Dave and check out his other articles, please follow the link here:
http://www.daverobertsononline.com/blog/
---