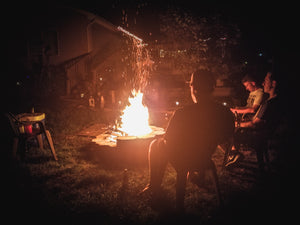 Off Grid Tools Survival Axe Review by Kovas Palubinskas
The Off Grid Tools Survival Axe arrived for testing several months ago, and I've tried to put it through the ringer as much as possible. This is an all-in-one multi-tool that should make your prepper, outdoorsman, or homeowner equally happy.
The Survival axe has 31 features, more than you'll probably need or use, but handy if situations arise. The main features are the hatchet blade and claw hammer head, both part of this steel full tang tool.
We used the axe head to create kindling, chop out smaller stumps, and generally bash any and all wood we could find. Since this is 420 stainless steel, it's pretty easy to work this hard and then re-sharpen for further use.
The hammer was used to pound tent stakes into compacted ground, hang photos in the house, and pull nails with the integrated claw.
One of our other favorites was the Sawzall blade that folds in/out of the handle and locks into place to make small cutting jobs simple and fast. It's easy to change, which means a fresh blade is just a few minutes away.
Other features include  a variety of hex socket sizes, a hardened steel glass breaker, a seat belt cutter, a bottle opener, and more. This really is a tool that should be kept handy both in the car and at home.
The Survival Axe comes with a protective sheath (especially nice when passing it over for another's use), is just under a foot long and weighs just about 1 pounds, 9 ounces, so it can be used by big and little people alike.
To me there is only one con: the handle. It does not feel ergonomic and tends to twist, especially when bashing hard. It's not a negative to the point of being unsafe or uncomfortable, it would just be nice if Off Grid Tools rethought this part of the Survival Axe.
The Survival Axe is one of those tools you might not have thought about as a necessity, but it's multiple functions mean it has a place in your car and/or gear closet. Equally useful for survivalists, outdoor lovers, and homeowners alike.
This blog post was written by Kostas who has his personal blog Midwest Base Camp: https://midwestbasecamp.com 
---