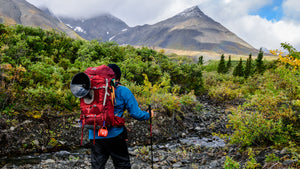 Dillon Anthony Review - the Survival Axe is sturdy and capable, it'll handle any task you throw at it!
Product review - Survival Axe
Price - $39.99
The survival axe is an exceptionally well designed, ergonomically crafted multi-use adventure necessity. Sturdy and capable, it'll handle any task you can throw at it!
My initial test of the axe was the classic winter campfire, complete with snacks and beverages. The axe created the kindling with ease and provided access to a cool drink.
Features:
There are an impressive amount of functions available in this tool, and with creativity you can push the limits of use for many of them. I'm going to discuss a few of the the stand out tools that I personally use the most.
The hatchet edge - This is a quality blade that comes sharp straight from the factory. You can touch it up yourself, but I feel this won't be needed until many uses.
The hammer - Having this included is a great addition for camping as many hatchets are not designed to take the impact on the butt end.
Pry bar & Nail Puller - While doing a bit of car maintenance, I used the pry to remove some internal paneling. I've been storing it in my car as the very functional (but hopefully never needed) seat belt cutter and window punch gives a certain peace of mind.
Bottle Opener - Always handy.
Saw blade - As a quick test, I used the saw to cut through PVC pipe. The stock blade is quite tough, but I really like that the ability to change to a new blade is made incredibly easy.
The rest of the features (in my opinion) are a huge bonus, but the core tools are what I'm most impressed with. My only suggestion is that a rubber stopper be added to the Glass Breaker to provide protection while storing the axe in a bag, or accidentally bumping it with your palm.
Overall, the Off Grid Tools Survival Axe is of exceptional quality, feels well balanced and sturdy in the hand, and will be a regular companion for me in years to come.
Have a try yourself: 
Follow Dillon on Instagram @dillonthonyadventure
---